Social Media Guide
Introduction
Table of Contents
The main social media tools used for Collaborative Explorations is our Google + Community and Google + Hangouts. You'll need a Google account to access both of these. Your Google account will also give you access to useful tools like Gmail, Google Docs, calendar and more.
Sign up for a Google account
If you have a Gmail address, you already have a Google account and you can move on to getting started with Google + (see below). If you've not used Gmail or other Google Apps, you'll need to create a Google account. Visit Google's
new accounts
page to register for an account. Choose a strong password that is memorable to you but difficult for others to guess.
You might also like to read the terms of service & privacy policy related to Google accounts.
For additional support, WikiHow has this detailed,
step-by-step guide
that will walk you through Google Account creation.
Getting started with Google +
To have access to all the daily sharing and chatter in each Life Work Collaborative Exploration, you'll need a Google + account. By joining Google's social network, you'll be able to access these communities as well as the wider
Critical, Creative and Reflective Practice
community. You will also be able to participate in the weekly Google Hangouts. Google is kind enough to walk you through
Google + account setup
here.
Google+ Communities
Google + communities are great places to share content, have discussion and make connections. This
beginner's guide
from Ryan Lytle at Mashable will help you understand the basics of how Google + Communities work.
The Collaborative Exploration Communities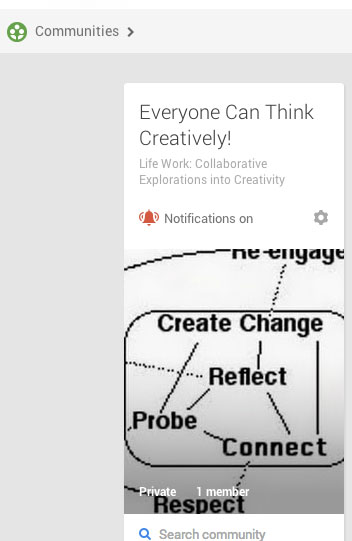 Each Collaborative Exploration in the Fall 2013 series will likely have additional posts to its G+ community. Post questions, create quick progress updates and share interesting web content with others should you feel compelled to do so. Links to weekly Google+ Hangouts and report outs will also be posted to the corresponding community.
Each Collaborative Exploration community is private and accessible only to those who have signed up to participated. After you have submit the simple registration to the Collaborative Exploration or Explorations of our choice, click on the relevant Google+ Community (accessible from the Life Work main page). Once you get to the appropriate community page

click join. We'll see you there!
Join button
Turning Notifications On and Off
While participating in the Collaborative Explorations, you may or may not want to have additions to the community show up in your email account. Be sure to set the notifications to your preference.
Google Plus Hangouts
The Collaborative Explorations will make use of weekly
Google Hangouts
to bring participants into formal dialogue with one another. Google Hangouts, is a powerful and easy-to-use video teleconferencing
feature in Google +
. Once you join a Collaborative Exploration you will receive a weekly invite to join that week's hangout.
Important Note: You'll need a Google + setup before you can participate in a hangout. See information above.
Here's a snapshot of a h
angout in full swing. Participants are collaborating on a Google Doc and using a group chat as another channel of discussion.
Google Hangout pic
Google Hangout pic
For detailed support on launching a hangout and navigating during a hangout, check out this
video tutorial
created by Joe Dillon.
Still Stuck?
If you've tried using the support provided here and you still can't find the information you need, email Dustin Senger (
dustin@senger.com
) or Felicia Sullivan (
felicia.sullivan@umb.edu
).
NOTE: The content of this page is modified from original content created by the Making Learning Connected MOOC of the National Writing Project - http://blog.nwp.org/clmooc
/