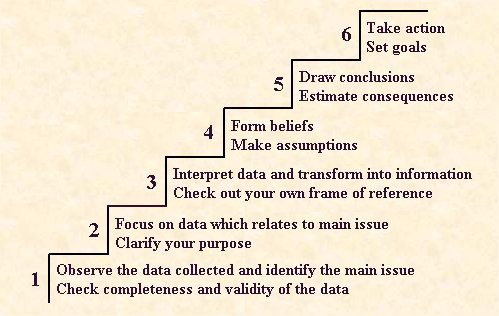 Thinking Process
In steps 1 - 3 suspend premature judgement. Use mature, informed judgement in steps 4 - 6.
As indicated by the curved arrow, starting with beliefs and assumptions, and then skipping to taking action, short circuits the thinking process.
Share as much of your thinking process as possible with others when you present your ideas and opinions.
To get the results you want, you do not have to follow each step precisely or even in order. But the more thoroughly you do them, the more you will improve the quality of your decisions.
Be aware of how the different steps affect each other. For instance, beliefs may lead to new data or new data may lead to new beliefs.
Based on The Ladder of Inference by Chris Argyris
© J. Allyn Bradford